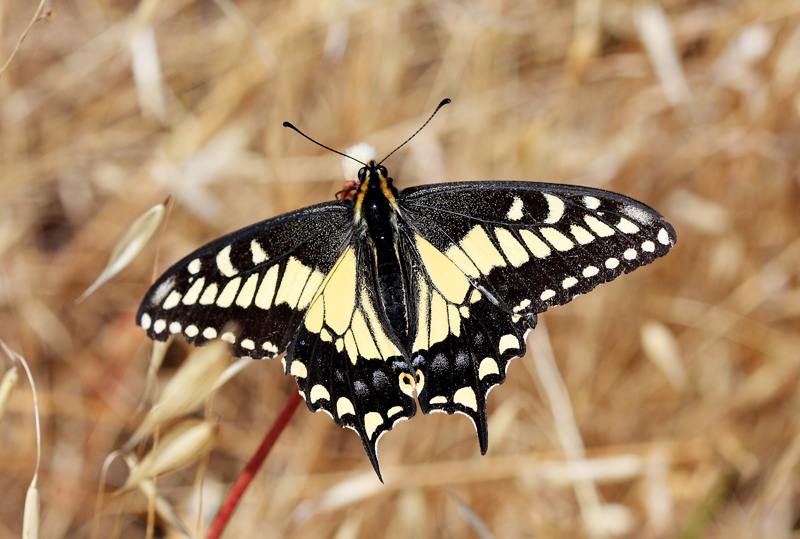 Here is a hill-topping male Papilio zeliacon, or Anise swallowtail.  This butterfly is widespread in the western Pacific states and is probably much more common than it once was.  After the introduction of fennel (Foeniculum vulgare), and subsequent escape from horticulture, the anise swallowtail took hold as a common California butterfly.  Perhaps before this plant overtook our roadsides the zelicaon may have been restricted to the Sierra foothills, now you can find it across gardens in all of California.  Although, things seem to be reversing themselves in southern CA where this butterfly is disappearing from urban areas.  Recent introduction of the gypsy moth to the Ventura/LA areas has initiated insecticide spraying regimes – not to mention the appearance of an invasive parasitic Tachinidae that loves larger leps.  Out on the east coast this parasitic fly and heavy spraying has extirpated the Imperial moth (Eacles imperialis) from much of it's range, leaving it endangered in most of New England.
For those who don't know, hill-topping behavior is a butterfly "king of the mountain" of sorts.  A number of butterfly species (among other insects and possibly some moths) will regularly patrol the highest peaks in mate seeking behavior.  Some authors consider this as lekking behavior, however "anthro"pomorphizing butterflies with other animal behavior is easy to do.  Males seem to compete for the best position on the highest peak, of which females frequent the most.  Back in my home state of Illinois "peaks" or even hills are far and few in-between.  Instead, butterflies use railroad paths or even houses.
I photographed this butterfly in spring in San Francisco during the 16th annual SF Butterfly count.  After 5 hours of hiking McLaren Park my group tallied a staggering twelve species.  Across all of San Francisco proper the count was a record breaking 24!  OK, not that impressive and probably staggeringly depressing when you consider how many species we know that were lost…let alone what were aren't even aware of.  As a fond memory, here is a Xerces blue (Glaucopsyche lygdamus xerces) that is held here in the collections of the California Academy of Sciences.  The label reads "March 20 1932, San Francisco".
2010 SF Butterfly count
Papilio rutulus – Western Tiger
Papilio zelicaon – Anise Swallowtail
Battus philenor – Pipevine swallowtail
Pieris rapae – Cabbage white
Euchloe ausonides – Large Marble
Colias eurytheme – Orange Sulphur
Strymon melinus – Gray Hairstreak
Celastrina echo – Echo Blue
Plebejus acmon – Acmon Blue
Agraulis vanillae – Gulf Fritillary
Phyciodes pulchella – Field Crescent
Phyciodes mylitta – Mylitta Crescent
Euphydryas chalcedona – Variable Checkerspot
Nymphalis californica – California Tortoiseshell
Vanessa virginiensis – American Painted Lady
Vanessa cardui – Painted Lady
Vanessa annabella – West Coast Lady
Vanessa atalanta – Red Admiral
Junonia coenia – Buckeye
Coenonympha tullia california – California Common Ringlet
Pygrus communis – Common Checkered Skipper
Hylephilia phyleus – Fiery Skipper
Polites sabuleti – Sandhill Skipper
Poanes melane – Umber Skipper
Total: 24 species, 775 individuals